When Uruguay became the first nation in the modern era to legalise Cannabis in 2013, most of its citizens were against it (only 28% supported legalising for use other than medical in 2013; this figure increased to 33.6% in 2014). Yet, despite deep public scepticism, none of the challenges or perceived failures of the law have been enough to generate momentum to try and reverse it. Instead, during the first round of national elections in October 2019, Cannabis legalisation had all but been forgotten as an issue. It had retreated into the political background. What has happened in Uruguay sets a surprising precedent, because 'drug' legalisation is widely seen by politicians as a huge political risk. But then it happened again, in Canada, in October 2018. The second country to legalise Cannabis also re-elected the architect of Canadian 'drug' reform, President Justin Trudeau, in October 2019 with the Cannabis issue largely taking a backseat. 
In June 2012, then Uruguayan President José Mujica proposed government legalise and distribute Cannabis to cut off revenue to 'drug' dealers. In November a bill was introduced in the House of Representatives outlining a framework for government regulation of Cannabis production, sales and consumption. By the end of December 2013, the House and Senate had passed the bill and Mujica had signed it into law.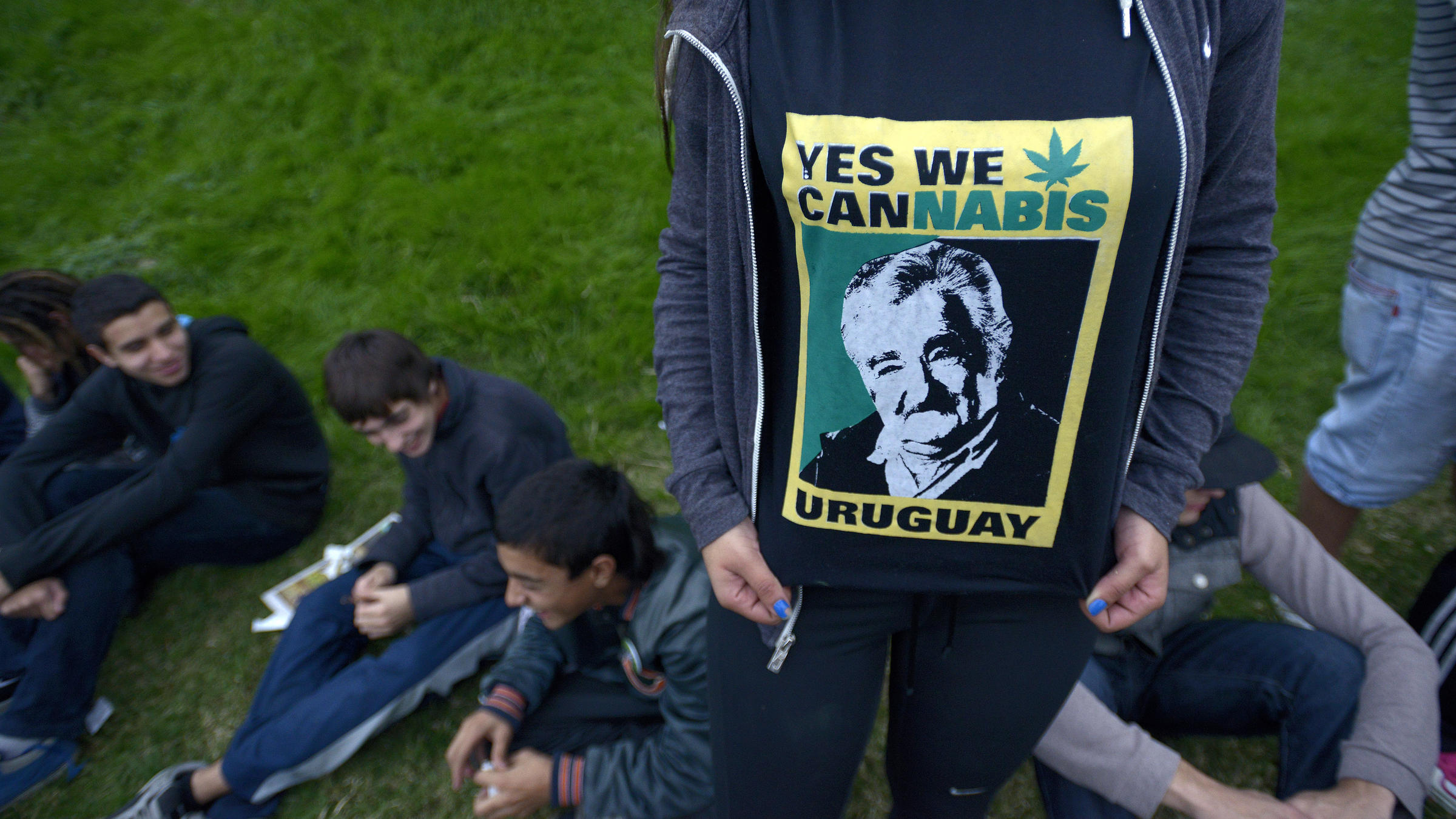 The Uruguayan government's plans were motivated primarily by concerns about crime, insecurity and public safety – its rationale being that a legal Cannabis market would reclaim most of the trade from organised crime groups and subsequently reduce rates of violence. An additional stated aim was to separate the market for Cannabis from the markets for actual drugs of addiction, such as cocaine, widely used in South America.  "People have seen that legal Cannabis hasn't resulted in mass panic or zombies roaming the streets of Montevideo", said Geoff Ramsey, Washington Office on Latin America  (WOLA, a US think tank), co-author of a 2018 report on the impacts of Uruguay's Cannabis laws. "It simply hasn't impacted most people's daily lives". Since April 2018, more Uruguayans are now in favour of legal Cannabis than against it.
The rules on Cannabis in Uruguay allow people to grow their own plants for consumption or to create collectives for group grows. But perhaps the biggest deal for Cannabis users was in 2017 when pharmacies started selling Cannabis, causing a surge in interest, with people signing on to a legal register if they wanted to buy. The number of Uruguayans on the purchaser registry increased from roughly 4,900 to over 13,000 in the first month. "We sold a lot of Cannabis on the first day", said Esteban Riviera, a pharmacy-owner in Montevideo, Uruguay's capital. "We sold 1,250 packages in six hours. There was a two-block queue …". The legal sale of Cannabis had been much anticipated and began on 19 July 2017, more than three-and-a-half years after Uruguay's Cannabis law had been passed. "It took them time, the government said, because they want to do it precisely and step by step", said Guillermo Draper, a Uruguayan journalist.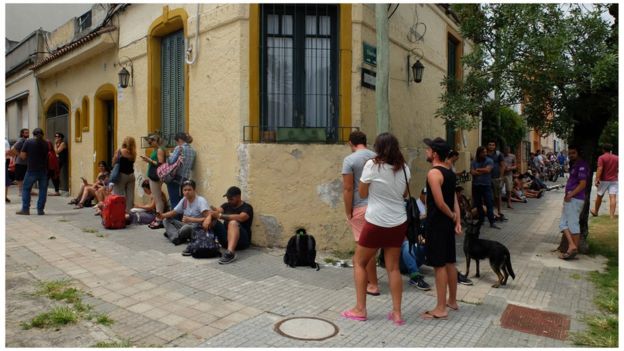 In Uruguay, customers queue outside a pharmacy to buy Cannabis
A young woman in a queue outside a Montevideo pharmacy said, "I am standing in the sun, burning hot, waiting for 2 pm when they'll start selling. This is one of the pharmacies who have more packages to sell without reserving online. There's a lot of pharmacies who have less, so a lot of people go home without weed and that's pretty sad". The system is tightly controlled. Customers have to register with the regulator and are limited to buying 10 grams a week. The regulator also controls levels of cannabinoids – THC is limited and 'balanced' with CBD. In pharmacies, there are just four different strains available to buy, none of which is especially strong. The price – around US$6.50 (AU$9.00) for a five-gram packet – is also set by the regulator. Pharmacy owner Gabriel Llano says he only gets about 20% of the purchase price from each packet he sells, although there's a higher profit margin on related products like snacks and smoking papers, a slightly odd sight in a pharmacy. 
Customers come in one at a time and put a thumb and finger on a print reader to prove they're registered to buy and haven't already reached their limit for the month. Then they hand over cash. It has to be cash, that's the condition on which Gabriel's bank has let him keep his account. Uruguay might be a sovereign country, but it's still affected by the United States' strict finance laws on controlled substances. The USA Patriot Act, which dictates US banks cannot do business with companies involved in the sale or distribution of a controlled substance posed a problem for retailers in Uruguay because the Act extends the reach of the law to foreign banks with an inter-bank account in the US. "This situation left Uruguayan banks with a choice: shut down Cannabis-selling pharmacies or risk the withdrawal of major American financial institutions from the country", Ramsey's report said. "For Uruguayan banks, the choice was an obvious one, and pharmacies were notified that their accounts would be closed".
The pharmacies still selling Cannabis either work with local banks that don't have relationships with American banks, or with cash-only. The rationale for changing the law was to move buyers from the illegal market to a legal one. But queues outside pharmacies suggest the legal market isn't meeting demand with supply shortages from the only two authorised suppliers across Uruguay. Additionally, because tourists can't legally buy Cannabis, black-market demand—a trend that goes against the original objective to legalising, i.e., to shrink illegal markets—has remained steady. That said, how the legal industry operates is still a work in progress. Stringent state regulation and banking issues have led to there being only 17 licensed pharmacies, across a country of 3.5 million people, that can sell legal Cannabis. "Some Uruguayan home growers and clubs have attempted to get around the ban on selling to tourists by offering 'Cannabis tours' … in which participants are free to sample Cannabis while on a paid tour. Others simply sell directly to tourists behind closed doors, a grey market quietly operating via word of mouth", stated Ramsey's report.
---
Snapshot of recreational Cannabis in Uruguay, as at end of June 2019
36,487 customers.

7,163 home growers.

>3,400 members of 123 Cannabis clubs where collective growing is allowed.

Two companies have a licence to grow high-THC medical Cannabis, at least a dozen to grow hemp and at least another dozen to perform Cannabis research.

Only a handful of licences for manufacturing have been granted so far.

As of mid-2019, approximately 3,000 kilograms of recreational Cannabis had been sold in pharmacies to registered customers.

In the recreational market, users have a choice of two strains of flower capped at 9% THC.
Snapshot of 'medicinal Cannabis' in Uruguay, as at end of June 2019
The medical market is limited.

One domestic company, Medicplast, registered a medical Cannabis product—Epifractan—an oil available with either 2% or 5% CBD and <0.5% THC. The company also registered a topical CBD product. The raw material for manufacturing these products is imported from Switzerland.

Patients are allowed to import individual products from other countries on a case-by-case basis. Bulk imports for distribution are prohibited.
---
"They have a lot of work to do to expand legal access and over time if they can address the banking issues—they will get there", said John Walsh of WOLA. Perhaps even more significant is that public opinion has turned towards favouring the law despite the teething problems and even though some trends in the country go against its initial goals—not just the continued presence of the black-market, but a rise in violence generally. In the first half of 2018, 221 people were murdered compared to 131 in the same period in 2017. That has fallen off in 2019, with 171 murders between January and June, a 22% drop. The authorities attribute around half of the killings this year to organised crime. Even so, analysis by one think tank says there is little evidence to link the growing violence to the 'drug' trade. Some observers have said the violence is more likely due to deepening inequality, especially that which confines people to densely populated, poor communities.
In September 2019, Uruguayan Cannabis company Fotmer Life Sciences carried out its first export of 'medicinal Cannabis product', to Australia. The 10 kg shipment was the first Uruguayan commercial export since legalisation in 2013. Since 2016, Fotmer Life Sciences has established itself as a leader in the field of 'medicinal Cannabis' in Uruguay. In 2017, the Institute for Regulation and Cannabis Control (IRCCA) granted Fotmer Life Sciences a licence to produce up to five tons of high-THC Cannabis for medical use, the highest quota ever permitted in Latin America. Uruguayan media outlet El Observador reported CEO Jordan Lewis was optimistic about the prospect of exports. "Uruguay has clearly established itself as the leading Latin American country in the incipient world Cannabis industry. The projections show that medicinal Cannabis will play an important role in the Uruguayan economy by providing jobs, attracting international investment and bringing necessary income for [marijuana*-related] investigation and development, which is vitally important. Our objective is to establish Cannabis as one of Uruguay's main exports in the next five years", he said.
Uruguay's Cannabis law: Pioneering a new paradigm – 2018 Report, Key Findings

– Uruguay should consider long-term measures to ensure that Cannabis business entities have access to financial institutions, including outreach to other jurisdictions shifting toward Cannabis regulation, such as Canada.
– The medical and law enforcement sectors require substantial education and training, particularly regarding the aims and expected benefits of Cannabis regulation, how to broaden access to medical Cannabis and the new enforcement rules under the law.
– Implementation of commercial sales so far has been marked by shortcomings in distribution. Uruguay can overcome these obstacles by widening legal points of sale to include not only pharmacies, but a new form of dispensary, which authorities are already planning.
– In order for the regulated Cannabis market to displace the black-market more effectively, authorities may need to reconsider rules that require users to choose only one of the three legal forms of Cannabis supply: home-growing, clubs, or commercial purchase.
– Uruguayan authorities may also need to address a growing informal market by allowing legal sales to non-citizen tourists.
– In order to better position themselves to assess these adjustments, authorities should work closer with independent researchers and civil society to ensure they have access to key information and institutional support for their work.
Download the full report in English or Spanish.

Canada, the second country to legalise Cannabis, in what was widely seen as one of the most momentous pieces of 'drug' reform in recent times, also saw the topic fade from view. Apart from some fear-mongering disinformation, Cannabis was a virtual non-issue in their 2019 election. The Conservative party tried hammering Trudeau and the Liberals with crass scare stories about Cannabis legalisation, but it ultimately failed to hit home. However, the Canadian Civil Liberties Association reported in 2018, "The way the Federal Government has decided to pursue legalisation of Cannabis is concerning. Many Canadians think … Cannabis will be legal – maybe not legal like buying milk or eggs – but something akin to alcohol, or tobacco. The belief is Cannabis will be a tightly regulated substance that people of a certain age are pretty much entrusted to use as they see fit. This is a mistake. There are a raft of new criminal offences … The fact you have a patchwork of provincial, territorial and municipal laws and by-laws that interact with the federal criminal prohibitions means something that's perfectly legal at home may be a crime when you're visiting your friend in another city".
A report released in March 2019 from the United Nations System Coordination Task Team describes punitive 'drug' policies as "ineffective in reducing drug trafficking or in addressing non-medical drug use and supply". It goes on to say that such approaches "undermine the human rights and well-being of persons who use drugs, as well as of their families and communities". The report represents a clear rejection of policies based on criminalisation, punishment and harsh enforcement, instead endorsing evidence based policy rooted in public health, sustainable development and respect for human rights. As such it marks a major shift in collective thinking across the leading UN agencies – and a major victory for civil society reform advocates. The Task Team was established with the purpose of reviewing the impact and effectiveness of global 'drug' policy.
In addition to repeatedly setting out the ineffectiveness and injustices of punitive policies, the report rejects the simplistic view that 'drug harms' are unrelated to the social and life experiences of 'drug' users, as well as pointing to the serious harms that can arise from the unnecessary imprisonment of people who use 'drugs'. The report also provides support for a range of health and harm-reduction measures and 'proportionate and effective policies' including diversion of people caught in possession away from criminal justice and into support. In doing so, it clearly describes how criminal justice approaches impact disproportionately on the poor and the marginalised, creating both stigma, social inequality, health harms and human rights abuses. It also highlights major concerns with supply side enforcement that enriches organised crime and can increase levels of violence and conflict.
Overall, the report calls for policies based on evidence, human rights and social justice, stating, "… if not based on human rights standards and a solid evidence base, drug policies can have a counterproductive effect on development. Abusive, repressive and disproportionate drug control policies and laws are counterproductive, while also violating human rights, undercutting public health and wasting vital public resources". The report also suggests making changes to both 'drug' laws and policing; "Structural changes in legislation and law enforcement practices can facilitate the delivery of services, including minimising the adverse consequence of drug use". The unenlightened and uneducated express massive concerns about legalisation of Cannabis, but when they come to the realisation that it's better than what they had before, they eventually accept it and move on. Fear of the unknown is being eradicated by the mundanity of reality.
Adapted from Weed-Curious Politicians Should Look to Uruguay, Where There's No Fuss Over Legal Pot, Global Cannabis: Uruguay, Major UN report condemns punitive drugs policies, Uruguay: The world's marijuana pioneer and Uruguay makes first marijuana export to Australia
*Cannabis is the correct botanical term, marijuana is a North American colloquialism, at best.