Giving patients legal access to Cannabis will influence a significant portion of them to use Cannabis as an alternative to traditional pharmaceuticals, two 2019 studies found. In the first, published in the Journal of Pain, researchers analysed data from online surveys submitted by 1,321 adult Cannabis consumers in legalised states throughout the United States. It found that +80% of respondents had used Cannabis as a substitute for pharmaceuticals, primarily opioid painkillers. Seventy-two percent of those who reported substitution said they had completely ceased opioid use, 68% stopped taking benzodiazepines and 80% eliminated SSRI anti-depression medication. The participants were asked why they chose Cannabis over pharmaceuticals. The top reasons given included that Cannabis had fewer adverse side effects and was more successful in managing symptoms. Almost 90% of respondents said their pain improved after using Cannabis and 71% said their health improved overall. "The current study and the consistent nature of the observational findings provide additional nuance to the ongoing debate about Cannabis' analgesic value for chronic pain, as well as a potential substitute for opioids or other drugs", researchers wrote. The second study, published in the Harm Reduction Journal in January 2019 surveyed  +2,000 Canadian adult medical Cannabis patients registered with federally authorised manufacturer Tilray. They completed online questionnaires about why they use Cannabis and whether they've used it as a substitute for other medications and substances. The exhaustive survey included 239 questions.
About 70% said they used Cannabis as a substitute for prescription drugs, 35% for opioids, 11% for anti-depressants, 8% for anti-seizure medications, 4% for sleeping pills and muscle relaxants and 4% for benzodiazepines. A significant fraction of those who used Cannabis as an opioid substitute reported complete cessation: 59%. About 20% said they reduced their opioid usage by at least 75%. Like the US survey, the researchers asked the Canadian patients about the reasons behind their decision to substitute. Fifty-one percent said it was because they felt Cannabis was safer than pharmaceuticals they were prescribed, 40% said Cannabis had fewer adverse side effects and 20% reported better symptom management with Cannabis. Additionally, 44% of respondents said they used Cannabis to partially or completely stop using alcohol and 31% cut out tobacco. "This study offers a unique perspective by focusing on the use of a standardised, government-regulated source of medical Cannabis by patients registered in Canada's federal medical cannabis program", researchers wrote. "The findings provide a granular view of patient patterns of medical Cannabis use, and the subsequent self-reported impacts on the use of opioids, alcohol, and other substances, adding to a growing body of academic research suggesting that increased regulated access to medical and recreational Cannabis can result in a reduction in the use of and subsequent harms associated with opioids, alcohol, tobacco, and other substances". Nearly half of patients using Cannabis to help with their respective medical conditions stopped taking prescribed benzodiazepines, another study, published in the journal Cannabis and Cannabinoid Research, reported.
"Within a cohort of 146 patients initiated on medical Cannabis therapy, 45.2% successfully discontinued their pre-existing benzodiazepine therapy", authors wrote. "This observation merits further investigation into the risks and benefits of the therapeutic use of medical Cannabis and its role relating to benzodiazepine use". While much research has been dedicated to understanding how medical Cannabis could potentially replace opioids for patients who deal with chronic pain and other ailments, the study suggests patients who take Valium, Xanax and other popular tranquilisers for neurological conditions (anxiety, insomnia, seizures etc) may find relief through Cannabis. Researchers in Canada conducted a retrospective analysis of data collected from a group of patients who had been referred to the Canabo Medical Clinic for medical Cannabis to treat a variety of conditions. They identified 146 patients who reported taking benzodiazepines regularly at the start of their Cannabis therapy. According to their findings, 44 patients (30%) had discontinued benzodiazepines by their first follow-up visit. Another 21 had stopped by their second follow-up visit and one more person reported doing so at the third visit. Sixty-six patients, or 45%, stopped taking benzodiazepines after starting a medical Cannabis regimen. "Patients initiated on medical Cannabis therapy showed significant benzodiazepine discontinuation rates after their first follow-up visit to their medical Cannabis prescriber, and continued to show significant discontinuation rates thereafter" the study stated. "Discontinuation was not associated with any measured demographic characteristic. Patients also reported decreased daily distress due to their medical condition(s) following prescription cannabinoids".
The amount of CBD and THC content did not appear to play a role in who continued to discontinue taking the tranquilisers. "The study results are encouraging and this work is concurrent with growing public interest in a rapidly developing Canadian Cannabis market", said the lead author, Chad Purcell. The study also served as an opportunity to draw more attention to the potential risks associated with benzodiazepines, Purcell said. "I was interested in this project because it presented an opportunity to address benzodiazepines and Cannabis use, both of which are becoming increasingly socially relevant. Benzodiazepines can be effective in treating many medical conditions but unlike opioids, there seems to be little public awareness of the risks associated with these commonly used prescription medications". According to the US Centres for Disease Control and Prevention, overdose deaths related to benzodiazepines rose 830% between 1999 and 2017. Another study (August 2018) showed how Cannabis could be an effective treatment option for both pain relief and insomnia, for those looking to avoid prescription and over-the-counter pain and sleep medications – including opioids. The study, published in the Journal of Psychoactive Drugs, looked at 1,000 people taking legalised Cannabis in an American state and found among the 65% taking Cannabis for pain, 80% found it was very or extremely helpful. This led to 82% of these people being able to reduce, or stop taking over-the-counter pain medications and 88% being able to stop taking opioid painkillers. 74% of the 1,000 bought it to help them sleep – 84% of whom said Cannabis had helped and over 83% said they had since reduced or stopped taking over-the-counter or prescription sleep aids.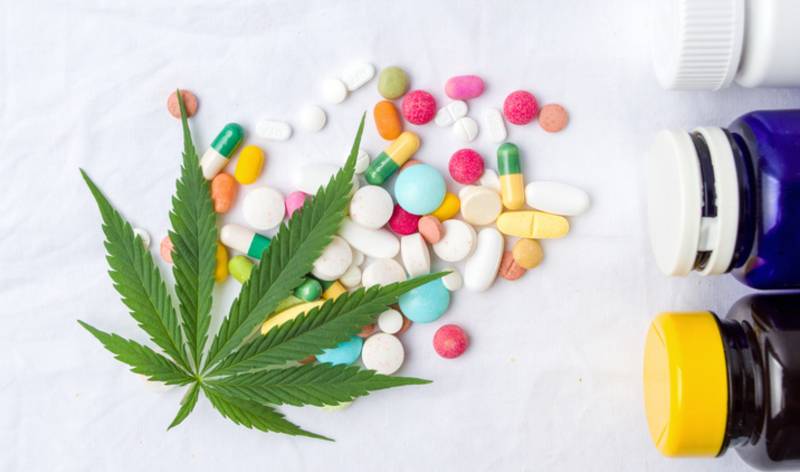 The study suggests Cannabis could lower opioid use. However, researchers caution more needs to be done to understand potential therapeutic benefits of Cannabis. "Twenty percent of American adults suffer from chronic pain, and one in three adults do not get enough sleep", said Dr Gwen Wurm, Assistant Professor, University of Miami Miller School of Medicine. Traditional over-the-counter medications and painkillers can help, however they may have serious side effects. Opioids depress the respiratory system, meaning that overdoses may be fatal. "People develop tolerance to opioids, which means they require higher doses to achieve the same effect", said Dr Julia Arnsten, Professor of Medicine, Albert Einstein College of Medicine. "This means that chronic pain patients often increase their dose of opioid medications over time, which in turn increases their risk of overdose". Although less common, sleeping pills can lead to dependence and cause grogginess the next day, interfering with people's work and social lives. As a consequence, some people are looking to Cannabis to help. To find out more about these users, Wurm and her colleagues used survey data from people who purchased Cannabis from two retail stores in Colorado, US, where it is legal for both medical and recreational use – meaning any adult over 21 with a valid government ID may purchase product. "In states where adult use of Cannabis is legal, our research suggests that many individuals bypass the medical Cannabis route (which requires registering with the state) and are instead opting for the privacy of a legal adult use dispensary", said Wurm.
Although the survey was conducted among customers willing to participate (meaning the results may not reflect the overall population of dispensary customers) other national survey data and data from medical patients at medical Cannabis dispensaries, demonstrates that people who use Cannabis to treat symptoms both decrease and stop their use of prescription medications. The study adds weight to the theory that widening access to Cannabis for medicinal purposes could lower the use of prescription painkillers, allowing more people to manage and treat pain without relying on opioid prescription drugs that have dangerous side effects. This is backed up with other research that shows US states with medical Cannabis laws have a 6.38% lower rate of opioid prescribing and that Colorado's adult-use Cannabis law is associated with a relative reduction in opioid overdose death rate from 1999 to 2010. Wurm added, "Non-steroidal anti-inflammatory drugs (NSAIDs) such as ibuprofen cause GI bleeding or kidney damage with chronic use. Paracetamol (Acetaminophen) toxicity is the second most common cause of liver transplantation worldwide and is responsible for 56,000 ER visits, 2,600 hospitalisations, and 500 deaths per year in the US". Again, however, researchers caution more research is needed to understand the health benefits and side effects of Cannabis. "The challenge is that health providers are far behind in knowing which Cannabis products work and which do not. Until there is more research into which Cannabis products work for which symptoms, patients will do their own 'trial and error', experiments, getting advice from friends, social media and dispensary employees", said Wurm.
---
Adapted from Patients Are Substituting Marijuana For Addictive Pharmaceutical Drugs, Two New Studies Show, A 'Significant' Number Of Patients Stopped Taking Benzodiazepines After Starting Medical Marijuana, Could marijuana be an effective pain alternative to prescription medications?